Theatre
Sam won a scholarship to RADA and soon after finishing his training he joined the National Theatre. Since then he has worked consistently with most of the leading actors of recent years, which began at the National Theatre with Sir Laurence Olivier where he appeared in many of their legendary productions including the famous all male As You Like It; he was soon appearing regularly in the West End with actors such as Paul Scofield, Sir Alan Bates, Felicity Kendal and Stephen Fry. He has also appeared in premieres of plays by such leading playwrights as Simon Gray and on Radio, Sir Tom Stoppard (see more under 'Radio').
His London West End debut was with Paul Scofield in The Tempest playing Ariel to Scofield's Prospero in what became the longest run of any Shakespeare play in London's West End in the 20th century.
He was in the world premiere of three of Simon Gray's plays, acting alongside Alan Bates in Melon, with Felicity Kendall in Hidden Laughter and with Stephen Fry and Rik Mayall in Cell Mates.
In 1998 he was back at The National playing Mr Sengupta in Tim Supple's adaptation of Salman Rushdie's Haroun and the Sea of Stories. He worked with the Royal Shakespeare Company again in several productions, including Greg Doran's production of Timon of Athens, Tales from Ovid again with Tim Supple in 2000, which went to The Young Vic and later a world tour with the Company in The Servant to Two Masters which played for a month at the famous Kennedy Centre in Washington DC.
Sam has performed his highly successful one man show of Shakespeare's Sonnets, touring to universities in America, Canada, Germany, Austria, the Czeck Republic, Lithuania, Russia, Belarus, Denmark, Sweden, Norway, Poland and Spain. In this country he presented it in the Rose Theatre in London and Shakespeare's Birthplace Trust in Stratford-upon-Avon.
He has also had a long and distinguished association with Westminster Abbey, where he has given a number of highly acclaimed readings, which began under former Dean, Dr Wesley Carr in 2000 with a compilation of readings from The Bible, The Prayer Book and 17th century writers to illustrate the influence of the Bible and Prayerbook on the writings of the period.
Then in November 2002 he was asked to do a reading in Poet's Corner of 1st World War poets for Remembrance Day which he did with Jean Liddiard and in 2004 he did his recital of Shakespeare's Sonnets for Shakespeare's birthday. This was exceedingly well received and cited by the Dean as one of the highlights of that year. As a result of this he was invited back to read poems by W H Auden for the celebration of the poet's centenary in 2007.
Sam's recent stage credits include Yes, Prime Minister at Chichester Festival Theatre, which then went into The Gielgud Theatre, before touring and later returning to The Trafalgar Studio in London. Earlier this year (2016) he played Egeus in Sir Trevor Nunn's all Indian production of A Midsummer Night's Dream.
For ten years Sam was a distinguished member of the panel of judges of the 'Thames Television Young Theatre Writers Awards'. (Photo right - for more see under 'Biography')
Much Ado About Nothing
Sam's latest production has been playing the parts of Verges and Antonio in Simon Dormandy's production of Much Ado about Nothing for Rose Theatre, Kingston from April 13 – May 6 2018, Kingston's 10th anniversary with Mel Giedroyc and David Rintoul.
Photographs by Mark Drouet.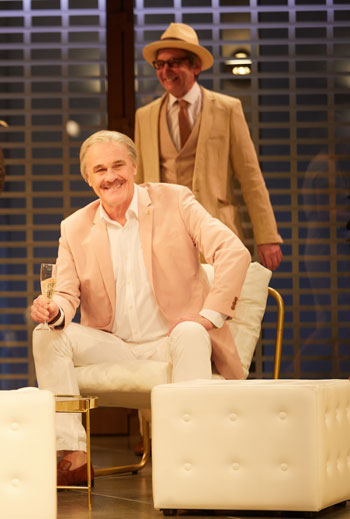 Sam as Antonio with David Rintoul as Leonato
Sam as Verges with Stewart Wright as Dogberry
Sam as Antonio
Reviews
The Tempest
 "Sam Dastor is a remarkably touching Ariel and his early scene with Prospero, where he is roundly berated for asking for his freedom, provides a genuinely exciting moment."
Jonathan Hammond in The New Statesman
Sam Dastor's delicate Ariel captures the essence of the ethereal spirit in bondage, reaching out in sad eager supplication to the world."
Ronald Wilkinson in The Yorkshire Post
"The elegant Ariel of Sam Dastor is quite magical as a light and delicate spirit."
John Barber in The Telelgraph
Tales from Ovid
"Sam Dastor plays Tiresias with beguiling whimsicality"
Charles Spencer in The Telegraph
A terrific 10-person ensemble cast, resplendent in oriental costumes, includes Sam Dastor as a fine Tiresias, Andrew Dennis and Susannah Elliott-Knight playing Jupiter and Juno to great comic effect, Sirine Saba as both Myrrha and Salmacis, and Alison Reid as a suitably scary Procne.
Paul Taylor in The Independent
Shakespeare's Sonnets
"Sam Dastor's reading of Shakespeare's Sonnets at Westminster Abbey was one of the highlights of the year."
Dean of Westminster
A Midsummer Night's Dream
Trevor Nunn's production uses an Indian colonial setting to heighten the play's suppurating tensions;  with such characters as Theseus (Matt Rawle), a white-suited Mountbatten figure inhabiting a world of cocktails and laughter, finding himself in a diplomatic impasse when a top civil servant, Egeus, played by Sam Dastor demands death for his daughter who refuses to submit to an arranged marriage.
Michael Billington in The Guardian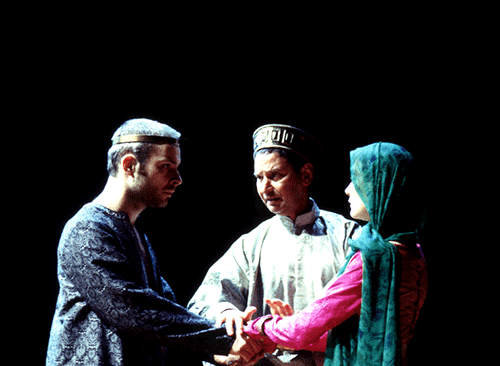 Sam with Mark Bonnar and Sarah Walton in Tim Supple's production for the RSC of
Tales from Ovid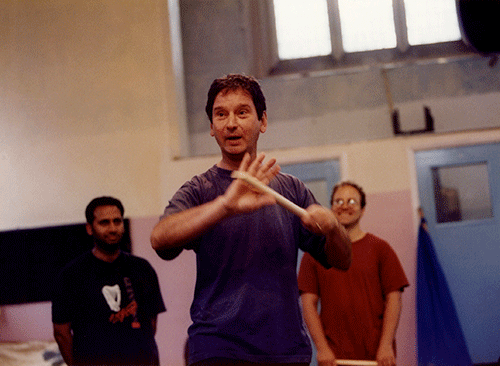 Sam rehearsing for the The National Theatre's production by Tim Supple of Salman Rushdie's
Haroun and the Sea of Stories
The Tempest -
Sam as Ariel with Paul Scofield as Prospero - The West Yorkshire Playhouse and in the West End
Photo: Zoë Domninic
A Midsummer Night's Dream
at the New Wolsey Theatre, Ipswich 2016 Directed by Sir Trevor Nunn with L- R : Harry Lister Smith, Neerja Naik, Sam Dastor and Assad Zaman.
Photo Mike Kwansiak
Chairman, playwright John Mortimer sitting with Sam Dastor,  Thelma Holt and Sue Summers, with back row Lloyd Shirley (head of Drama Thames TV) and Jack Andrews (scheme admin).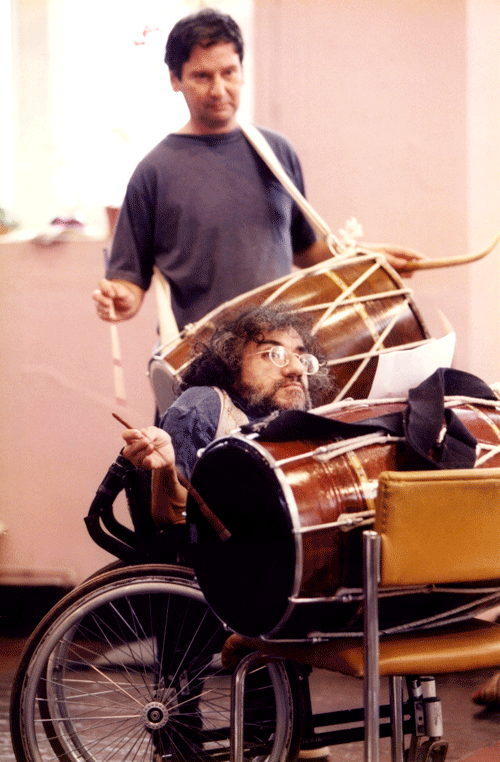 Sam rehearsing with Nabil Shaban for
Haroun and the Sea of Stories