Radio and Audio
Radio – Books
Sam has made innumerable broadcasts for Radio 3, Radio 4 and the BBC World Service including reading serialisations of books for Storytime, Woman's Hour, Book at Bedtime including novels by Ruth Prawer Jhabvala, E M Forster, Michael Ondaatje, Graham Swift and several Inspector Ghote books by H R F Keating.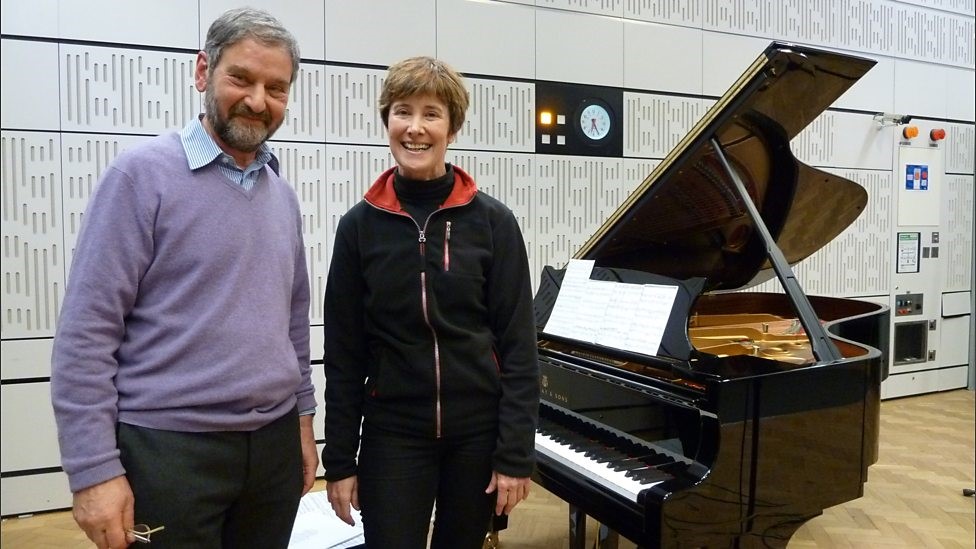 Sam and distinguished Spanish pianist Maria Garzón recording the music and poetry of Viktor UIlmann, who was killed at Auschwitz, in the BBC In Tune Radio 3 studio, for broadcast during Holocaust Memorial week..
Radio – Plays
Sam was a member of the legendary BBC repertory company from 1972 -1974 and worked alongside many of the best known Radio actors such Carleton Hobbs, Norman Shelley, Robert Harris, Gladys Spencer and many others, and directors including Raymond Raikes, Charles Lefeaux, Norman Wright, John Tydeman, Martin Jenkins, Betty Davies, and Jane Morgan and producers Hallam Tennyson and Martin Esslin.
Productions he was particularly associated with include:
Barchester Chronicles, 8 episodes directed by Norman Wright
Forty Years On by Alan Bennett with the author, Sir John Gielgud, Paul Eddington and Dorothy Reynolds
The Tempest by William Shakespeare, playing Ariel opposite Sir John Gielgud's Prospero.
In the Native State by Sir Tom Stoppard playing Nirad Das with Felicity Kendal, Saeed Jaffrey and Dame Peggy Ashcroft in her last performance, directed by John Tydeman. This later became Indian Ink when it transferred to the West End.
Audio Books
Sam has recorded many audiobooks, some of which have won the prestigious Audiofile Award.
Satanic Verses Probably Salman Rushdie's masterpiece, which won the Whitbread Prize.
Joseph Anton by Salman Rushdie, a novel based on Rushdie's experience of having a fatwa against him. 'Joseph Anton' is the alias he chose from the first names of writers Conrad and Chekhov.
Kim by Rudyard Kipling's complex tale of spiritual adventure.
A Passage to India by E M Forster's most famous novel
Last Man in Tower described as 'explosive, lyrical and compassionate', by Man Booker prize-winner, Aravind Adiga,
Inspector Ghote Hunts the Peacock by H R Keating
The Inheritance of Loss, by Booker Prize winner Kiran Desai.
Mao, the Unknown Story , the Unknown Story by award-winning novelist Jung Chang.
Most recently Sam was specially invited to record two books for Audiobooks by V S Naipaul - A Wounded Civilization and India: A Million Mutinies Now, as well as a centenary tribute to HRH Prince Philip by the acclaimed royal biographer Robert Jobson for Isis Audio/Ulverscroft. Literally, as Sam was recording the final chapter, his Royal Highness sadly died, and so he had to record an extra end chapter noting this.
Press
Kim
"Sam Dastor is a brilliant reader"
Audio File
"Dastor's masterful performance, which individualizes dozens of Indian and British voices, is unparalleled in artistry, wit and precision."
Earphones Awards Winner
Inspector Ghote Hunts the Peacock
"Dastor's theatrical achievements are revealed in the brilliance of his interpretations of everyone from the dreadful relatives to the dastardly London criminal elements."
AudioFile
Last Man in Tower
"The narration by Sam Dastor is excellent: the huge cast of characters are all rendered as individuals and the subtlety of their moral corruption is well-paced and depicted with care so that nothing seems one-dimensional."
On line review
A Passage to India
The characters are so vivid that I feel I have just viewed a much improved remake of David Lean's 1984 film of Forster's last novel (also Lean's final picture). This one is as the author intended — as the tape cover says 'nothing altered, nothing taken out'. The story revolves around the friendship between Dr Aziz, a Moslem medical officer, and Mr Fielding, Principal of the College in Chandrapore. The East/West divide was never wider than when Fielding breaks ranks to side with Aziz, following his alleged impropriety with Miss Quested on the calamitous expedition to the Marabar Caves.
Close your eyes (poor advice for driverlisteners) and Dastor's voice for Fielding could be that of Sir Alec Guinness. So much so that I checked the film cast. Guinness is on board, but plays the eccentric Professor Godbole. (James Fox was Fielding). So not only is Dastor a fine reader but he's also recast the movie. Perhaps Sam Dastor's finest vocal acrobatics are reserved for the vitriolic civil surgeon Major Callendar. Civil? Not when he berates and humiliates his wretched subordinate Aziz who, compassionate even in grim adversity, absorbs Callendar's verbal onslaughts with good humour. Forster's wit is razor-sharp and the reader's delivery is spot on.
A drawback with tape is replaying favourite segments; like a needle in a haystack they are impossible to find with any degree of accuracy. Maybe CDs are the solution — especially now that most new cars come with CD player and not a tape deck. Sadly A Passage to India is only available on tape. Another impediment is to own a decrepit car with a tape deck prone to over-heating. When this occurs — it happened to me en route to the Marabar picnic — a most convincing fragrance of maple syrup wafts from somewhere undiscovered — and the tape stops, extending the listening time by days. On this occasion the diversion was a pleasure. The maple syrup mystery remains unsolved.
Robert Cooper - The Spectator
Audio Awards
Sam won the Audiofile Award for A Passage to India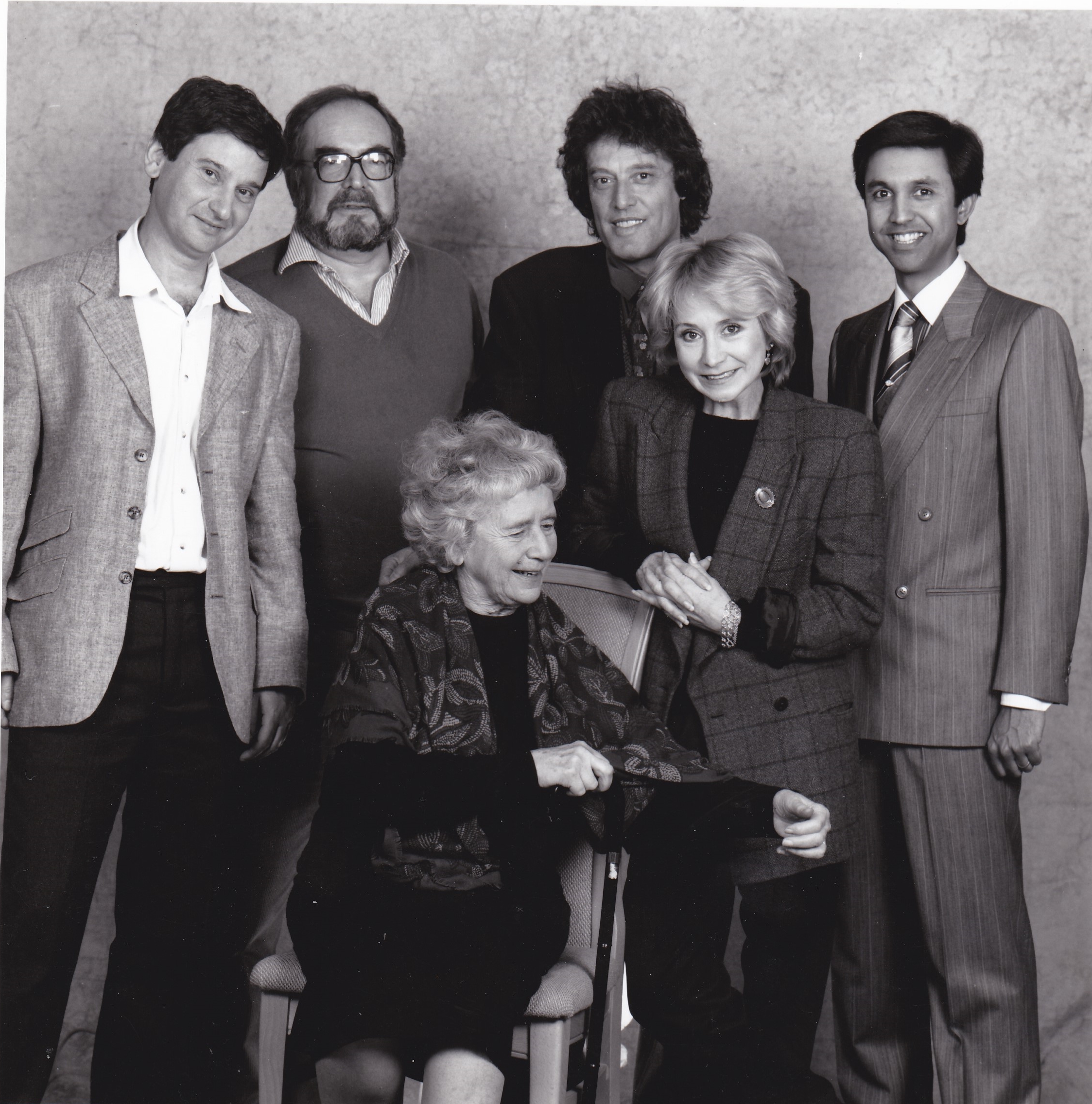 In the Native State
with John Tydeman,Dame Peggy Ashcroft (seated), Tom Stoppard, Felicity Kendal and Lyndam Gregory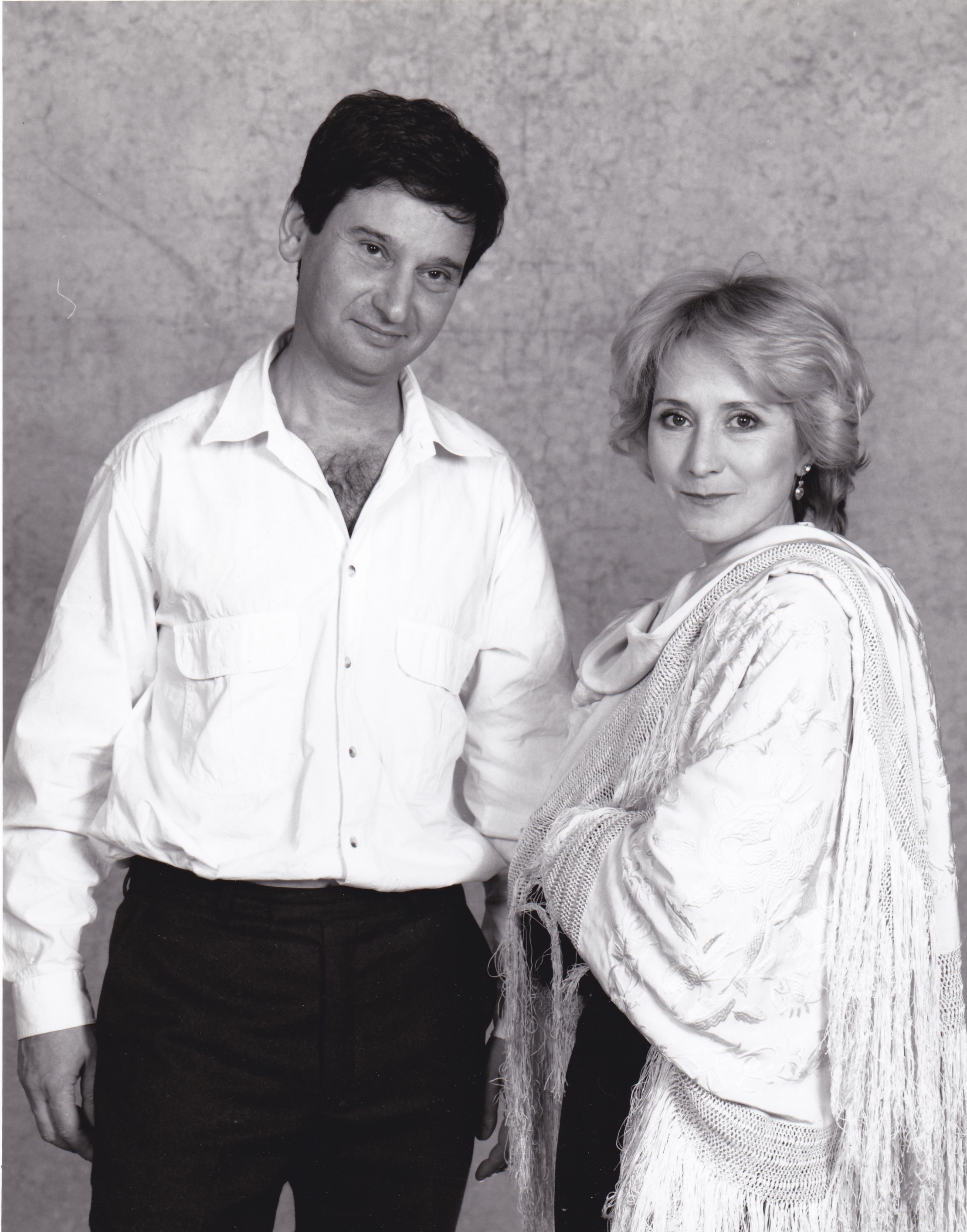 Sam with Felicity Kendal in
In the Native State