Films
Sam's films include
Made (1972) by award-winning Director, John Mackenzie (Unman, Wittering and Zigo, The Long Good Friday) starring Carol White
Such a Long Journey (1998) an Indo-Canadian film, based on the novel by Rohinton Mistry. Directed by Sturla Gunnarsson with Roshan Seth, Sam plays Dinshawji. The film received twelve Genie Awards nominations including the Best Picture and Best Director. The film was screened at the Toronto International Film Festival.
Jinnah (1998) An epic film on the life of the founder of Pakistan, Muhammad Ali Jinnah, directed by Jamil Dehlavi with Christopher Lee, James Fox and Maria Aitken and Sam as Mahatma Gandhi.
The Life and Death of Peter Sellers (2004) British-American film about the life of the comedian. Directed by Stephen Hopkins, it stars Geoffrey Rush as Sellers, Miriam Margolyes as his mother and Emily Watson as his first wife with Sam playing the film director Hal Ashby. The film won the Golden Globe Award for Best Mini-series or Television Film
Reviews
"The Anglo-Indian actor Sam Dastor, using a highly-pitched, slightly weak voice made a brilliant recreation of wily old Gandhi. For me, he is the definitive Gandhi".
Sir Christopher Lee's autobiography, The Lord of Misrule.
Sam's Showreel
Sam as Gandhi in
Jinnah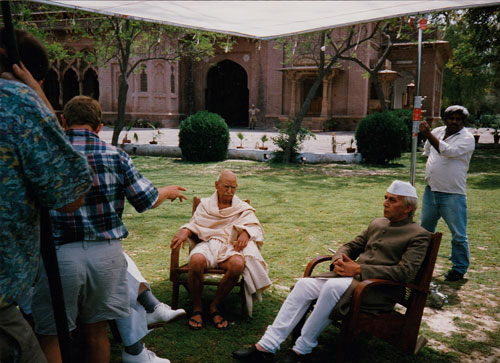 Sam with camera crew in establishing shot on set of
Jinnah
with Robert Ashby as Nehru.