Biography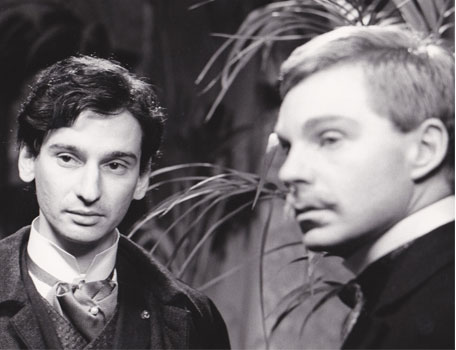 BBC
Man of Straw
with Derek Jacobi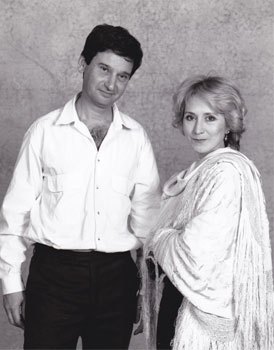 BBC Radio 3
In The Native State
by Tom Stoppard with Felicity Kendal
Sam as Gandhi in the biographical epic film
Jinnah
on the life of the founder of Pakistan.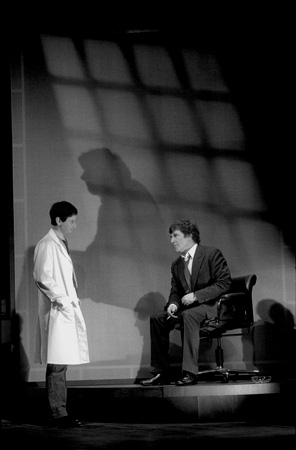 Sam with Alan Bates in Simon Gray's
Melon
: John Haynes/Lebrecht Music & Arts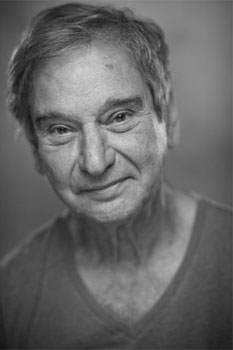 Sam
Over fifty years Sam Dastor's career has spanned theatre, film, television and radio. He studied English at Cambridge University before winning a scholarship to RADA. Soon after finishing his training he joined the National Theatre, then under the direction of Sir Laurence Olivier.
He made his London West End debut in The Tempest playing Ariel to Paul Scofield's Prospero in what became the longest run of any Shakespeare play in London's West End in the 20th century. His other London appearances include the world premiere of three of Simon Gray's plays Melon with Sir Alan Bates, Hidden Laughter with Felicity Kendall and Cell Mates with Stephen Fry and Rik Mayall.
For the Royal Shakespeare Company he has appeared in Timon of Athens and Tales from Ovid and on a world tour of The Servant to Two Masters which included a month at The Kennedy Centre in Washington DC. Sam's most recent stage credit was Yes, Prime Minister at Chichester Festival Theatre, UK tour and the West End.
On television he has been seen in I, Claudius, Julius Caesar, Comedy of Errors, The Borgias, Space 1999, Blake's 7, Yes Minister, Mountbatten -The Last Viceroy and Fortunes of War with Kenneth Branagh and Emma Thompson. In 2002 he played St Paul in a documentary drama about the Saint's life for the BBC and the Discovery Channel. Most recently Sam has appeared in the BBC series Spooks and Yes Prime Minister for UK Gold.
His films include Made, Such a Long Journey, Jinnah and most recently The Life and Death of Peter Sellers. On radio he has made innumerable broadcasts for Radio 3, Radio 4 and the BBC World Service including playing with Sir John Gielgud in Forty Years On and Ariel to his Prospero.
Sam has recorded many audio books for which he has won awards, including the prestigious Audiofile Award.
His one man show of Shakespeare's Sonnets has been seen at several universities in the USA, Canada, Germany, Austria, the Czech Republic, Lithuania, Russia, Belarus, Denmark, Sweden, Norway, Poland and Spain as well as Westminster Abbey and the Rose theatre in London and Shakespeare's Birthplace Trust in Stratford-upon-Avon.
In addition to acting, Sam has also been an influential presence behind the scenes. For instance, for ten years he was the sole actor member of the distinguished panel of Judges – including John Mortimer (Chairman), Thelma Holt and Sue Summers - for The Thames Television Young Theatre Writers Award. The scheme, funded by Thames Television was a bursary to encourage young theatre writers, and was worth £5000. Recipients included well-known future writers such as lan Bleasdale and Sue Townsend.
Most recently Sam was specially invited to record two books for Audiobooks by V S Naipaul - A Wounded Civilization and India: A Million Mutinies Now, as well as a centenary tribute to HRH Prince Philip by the acclaimed royal biographer Robert Jobson for Isis Audio/Ulverscroft. Literally, as Sam was recording the final chapter, his Royal Highness sadly died, and so he had to record an extra end chapter noting this.
To contact Sam's agent, Antony Barlow, please click here:artspublicity@hotmail.com